Leek and Potato Soup
from THE NATURAL GOURMET by Annemarie Colbin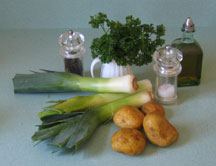 Major Phase: Metal
Yield: 6 to 8 servings
3 or 4 leeks
2/3 pound potatoes (about three medium)
1 tablespoon extra-virgin olive oil
6 cups Light Vegetable Stock or water
1 teaspoon sea salt or 1 tablespoon vegetable seasoning salt
Freshly ground white pepper
2 tablespoons chopped parsley for garnish
1. Cut the leeks lengthwise, then crosswise, discarding the tough outer leaves and using as much of the green as possible. Drop in a large bowl with cold water, swirl around to loosen the dirt, then scoop out with a slotted spoon and place in a colander.
2. Peel and dice the potatoes, and place them in a bowl of cold water.
3. In a 4-quart pot, heat the oil, then add the leeks and sauté over medium heat for 3 or 4 minutes, or until wilted. Add the stock or water, the potatoes, and the salt. Bring to a boil, lower the heat, cover, and simmer for 25 to 30 minutes
4. Puree half the soup in the blender and return to the pot. Adjust seasonings, and serve hot, garnished with a few grindings of white pepper and 1 teaspoon parsley.

Other articles concerning diet:
Other Recipes: