Crunchy Homemade Granola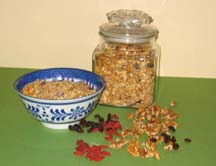 This crunchy granola takes a long time in the oven, but the actual hands-on time is short. Make a big batch on days when you are home. Seal in an airtight container and serve for breakfast throughout the week.
Preheat the oven to 250 degrees F.
Combine the rolled oats, sunflower seeds, nuts in a large bowl. Warm the honey, maple syrup, and vegetable oil. Stir until well blended.
Add the liquid ingredients to the dry ingredients and mix until all the dry ingredients are moistened.
Place the ingredients on a foil-lined cookie sheet or just oil the cookie sheet with a little oil.
Bake for 45 - 60 minutes. Stir every 15 minutes to toast evenly until the mix is a golden brown color.
Take out of the oven and add the raisins, wheat germ and shredded coconut. Add immediately after baking, so that they plump up with the heat of the grain.
Makes 10 cups.
Other articles concerning diet:
Other Recipes: